Actress Geeta Basra to share glimpses of her virtual baby shower!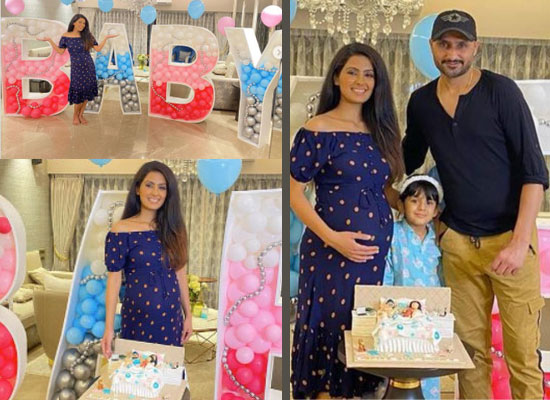 Former star Geeta Basra is all set to welcome her second child with Indian Cricketer Harbhajan Singh. The actress and the Indian Cricketer are all set to welcome their second child this July and ahead of it, Geeta's friends got together with her hubby to plan a special baby shower for her. Now, Geeta has shared exclusive pics from the pretty baby shower and lauded hubby Harbhajan as well as her friends.
On her Instagram handle, Geeta posted several pics from her virtual and surprise baby shower. In the pics, we can see the gorgeous mom-to-be standing in front of a huge wooden frame with letters that spelt the word 'BABY'. She is seen clad in a blue and orange polka dotted dress and her hair was left loose. All around Geeta, balloons of blue and pink colour could be seen. However, the cute bedroom cake, featuring Harbhajan, their daughter Hinaya Heera Plaha and the second child sleeping together with Geeta, stole the show. We could also see Geeta posing with her daughter Hinaya and Harbhajan in one of the pics.
Sharing the pics, Geeta thanked all her friends for planning the surprise virtually and lauded Harbhajan for being a 'good accomplice' to her friends. She wrote, "My girls are the best! What a beautiful and sweetest virtual baby shower surprise! Don't know what I would do without you all but you all made me feel so special and cheered me up.. during such times it's when you miss each other the most of not being able to celebrate such moments together and so many special celebrations missed out on.. but you girls really out did yourselves! All sitting across different parts of the world thank God for digital platforms that keep us connected! Thank you my loves and I'm so blessed to have you in my life! and hubby @harbhajan3 well done on being such a good accomplice!."
Warning
: mysql_num_rows() expects parameter 1 to be resource, boolean given in
/home/b4utv/public_html/b4umusic.co.uk/core/Db.php
on line
73