'Nothing is bigger than Kanyadaan', says Kangana Ranaut!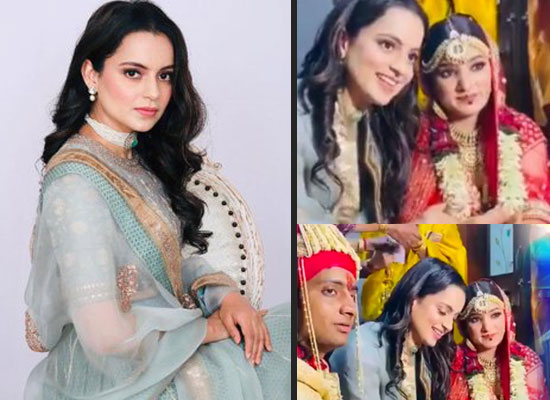 Nowadays, Bollywood's bold star Kangana Ranaut is hectic with two weddings at her house including one of her own brother Aksht and the other of her cousin.
Recently, Kangana dolled up to attend her cousin Karan's wedding and posted photographs of her look of the day on social media. She even shared an inside video of the wedding ceremony and welcomed the new bride to their home with love.
On Twitter, Kangana posted spectacular photographs of herself dressed in a pastel green lehenga with a pearl necklace. Sharing the video, she posted, "करण और अंजली को आशीर्वाद दें, आज हमारे घर बेटी आयी है मगर जब मैं अंजली के माता पिता के बारे में सोचती हूँ तो दिल भारी हो जाता है, आज उनका घर सूना होगा, उन्होंने अपने दिल का एक हिस्सा काट कर हमें दे दिया, आज उनकी बेटी का कमरा ख़ाली हो गया होगा, कन्यादान से बढ़कर कोई दान नहीं (Please bless Karan and Anjali, Today, a daughter has come into our house. But when I think about Anjali's parents, I am overwhelmed with emotion. Today, their house may feel empty. They have given away a piece of their heart to us. Today, their daughter's room will feel empty. Nothing is bigger than Kanyadaan.)"